28 Apr

Six things that bras and bags have in common!

Six things that bras and bags have in common. Two every-day items for most of the women out there. Although it is not the most obvious comparision you will see that there are some apparent similarities between these two. Besides the fact that they are carrying your assets in an elegant and comfortable way, there are some more exciting examples.  So here we go, what do bras and bags have in common?
Mouawad holds the two record level creations of bags & bras
Meet the 1001 Nights Diamond Purse that is valued at US$3.8 million. This unique masterpiece is created by Mouawad, world-renown Lebanese jewelers. Ten professional artisans spent 8,800 hours completing this bag. The heart-shaped purse is made of 18k gold and precious stones that adorn its surface: 56 pink diamonds, 105 yellow diamonds and 4,356 colorless diamonds (source: The Richest).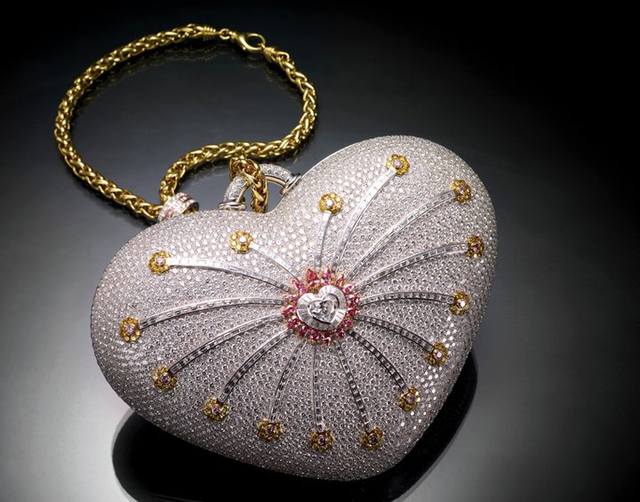 Mouawad's Sexy Fantasy Bra for Victoria's Secret entered the Guinness Book of World Records in 2000 as most expensive bra on the planet. Victoria's Secret started in 1996 with the million dollar miracle bra worn by Claudia Schiffer. It was however Gisele Bundchen who modeled the Red Hot Fantasy Bra and Panties, the most valuable one so far ($15 million). You might recognize the girls and bras in the feature image, where Alessandra Ambrosio and Adriana Lima showed the US$2 million sexy fantasy bras in the 2014 fashion show (source: Daily Mail).

Fake it till you make it!
Most fashion lovers know these Drew mini textured-leather shoulder bags by Chloe. This famous beauty does have a price tag so if you don't want to spend €1,090 on a shoulder bag, you might consider to fake it till you do make it (and visit a website that sells fake designer bags).

Bras can also be of great help if you cannot afford fake boobies;). This super push up bra will definitely boost your assets!
Size does matter!
Whatever your cup is, I think size will always be an issue. Some are very happy with their cup A while others will always keep dreaming of a size F.

Hmm, do I need to say more?

 Statement items! 
This statement bra is the perfect item for an original summer outfit.
Julie Sarinana looks marvelous in her clean jeans and striped shirt because of the quintessential colorful bag.

The bra and bag vocabulary is quite extensive!
The possibilities of bags and bras regarding sizes, models, colors, materials, styles, forms, occasions are endless. Check out the ultimate bag fashion vocabulary. (click here for the Big Bag Dictionary)

And… The ultimate bra fashion vocabulary

Bags and bras can both make or break your outfit!
In my opinion, a woman should always wear a bra that is aligned with her dress. The bra is actually decisive in making or destroying your look. So please don't wear a transparant lace bra under a tight white t-shirt and make sure you have the right bra for rocking a V-Neck dress.

With a little help of the perfect travel bag you can still be super stylish and fashionable when you go trekking.
So here ends the list of six things that bras and bags have in common! Could you name a few similarities more?
P.s. You might also like Beach bags & Arquitube bag!
P.s. 2 Featured image was found at LXEdit.